Posted by JJ Hemp Dispensary / Redwoods Reserves on 15th Jul 2021
This article was written by our friends at Redwoods Reserves! Send some love their way! Feel free to shop Redwoods on our site here!
Quite Smoking with CBD Cigarettes?
Studies indicate that CBD's anti-anxiety properties may be able to help you quit smoking, and stay smoke free, when combined with other healthy lifestyle choices.
So it's no wonder that recent research has shown that tobacco consumers are more than twice as likely to convert to smokable hemp in the near future.
CBD Cigarettes may offer a uniquely beneficial option for those who wish to quit smoking by providing an all-natural tobacco alternative that is 100% tobacco and nicotine free.
What are CBD Cigarettes?
CBD cigarettes (or hemp cigarettes) are cigarettes made with hemp instead of tobacco, containing high levels of CBD , less than .3% ∆9 THC, and NO nicotine. And because they do NOT get you high, and are non-intoxicating, CBD cigarettes are federally legal in the United States.
Many users have reported CBD cigarettes to be an effective nicotine substitute, as a natural alternative to nicotine patches, nicotine gum, or prescription medications to help with smoking cessation.
How CBD Cigarettes Can Help You Quit Smoking
If you are seeking an all-natural tobacco substitute while you quit smoking nicotine, then combining CBD cigarettes with other healthy lifestyle choices may help you kick the habit. CBD cigarettes
May help neutralize smoking cues
May reduce nicotine cravings
Provide an all-natural tobacco alternative
Look and feel just like traditional cigarettes
Help you relax without being addictive or intoxicating
CBD May Neutralize Smoking Cues
According to a 2018 study published in the journal Addiction, CBD can reverse the attentional bias to cigarette cues. In other words, you won't feel triggered to smoke as often. (1)
Researchers at University College London told 30 tobacco smokers not to smoke for 12 hours before treating them with either 800 mg of oral CBD or a placebo.
The participants were then shown a series of photos alternating between smoking-related images and neutral images.
Although CBD did not affect general withdrawals or cravings, it did make the smoking-related images less appealing.
At the same time, patients in the CBD group had lower systolic blood pressure than the placebo group.
According to the study's authors, "These results suggest that…CBD may exert anti‐addictive effects by normalizing the salience of drug cues."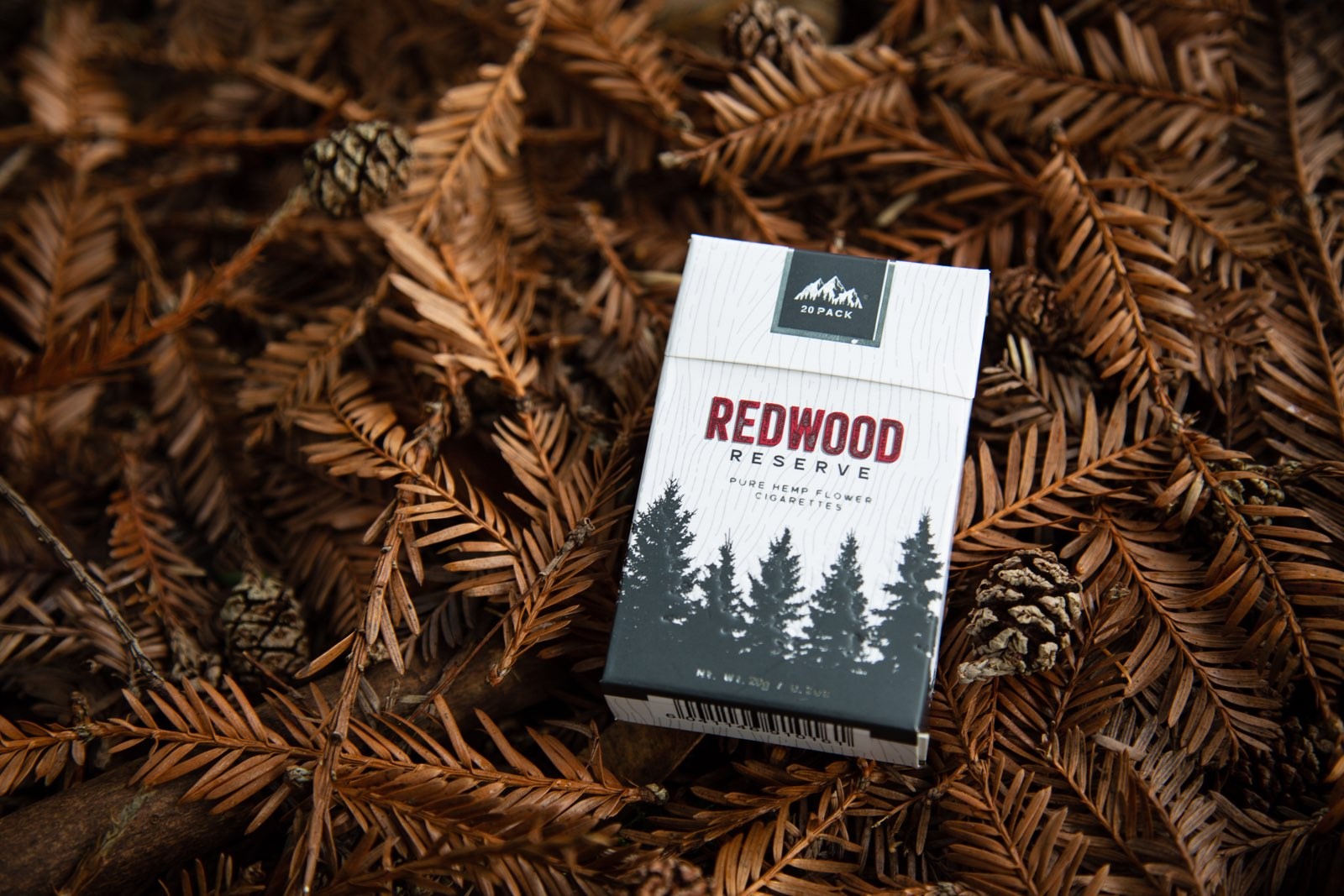 CBD May Reduce Nicotine Cravings
Hindocha's study builds on a pilot study that was published five years earlier in the journal Addictive Behaviors. (2)
24 smokers were given a CBD inhaler or a placebo inhaler and were told to smoke it whenever they had nicotine cravings.
Over the course of seven days participants in the CBD group smoked 40 percent fewer cigarettes. The placebo group, however, experienced no change in the number of cigarettes smoked.
CBD May Help Fight Addiction
Several studies indicate that CBD may treat addiction by reducing impulsive behavior, anxiety, stress, and inflammation. (4) (5) (6) (7)
Plus, CBD may have neurobiological effects on the brain circuitry related to drug cravings. (8)
Due to CBD's broad effects, neuroscientists predict that, "CBD has therapeutic potential relevant for multiple conditions that underlie relapse risk, including craving induced by drug-related environmental contexts, susceptibility to stress, heightened anxiety and, possibly, impaired impulse control." (3)
Although more human research is needed , early studies indicate that CBD is a promising natural remedy for addiction.
CBD Cigarettes Offer an All-Natural Tobacco Alternative
While more research is needed before CBD products can be designated as an official aid to smoking cessation, CBD cigarettes seem to offer great promise as a tobacco substitute to aid in the fight to quit smoking.
High quality CBD Cigarettes are rolled with 100% organic CBD hemp flower and contain no tobacco, nicotine, or additives.
And because of smokable hemp's inherent 'relaxing' qualities, CBD cigarettes can provide an all-natural way to take the edge off without the harmful, addictive side-effects of traditional tobacco cigarettes.
CBD cigarettes show exceptional promise as an aid to quit smoking because they offer high levels of CBD, which can help reduce cravings, while having an identical look, feel, and experience as traditional tobacco cigarettes.
How to Quit Smoking with CBD Cigarettes
CBD cigarettes offer an all-natural tobacco alternative that may be able to help you quit smoking by offering an effective, non-addictive substitute to help you fight off cravings. Here are some ways that you can use hemp smokes as an effective tobacco substitute.
Replace tobacco products with CBD cigarettes
Keep a pack of CBD cigarettes on-hand for when cues are strongest
Replace scheduled cigarette breaks with CBD cigarette breaks
Smoke CBD cigarettes as an all-natural, non-addictive NRT
Combine CBD Cigarettes with a Quit Smoking Plan like S.T.A.R.T
While CBD may be able to help you tackle cravings and neutralize smoking cues, being successful in your fight to quit smoking ultimately depends on you. To increase your chances of success, be sure to incorporate healthy lifestyle habits such as exercise and a quitting journal, combined with a quit smoking plan, like S.T.A.R.T.
S – SET a quit date
Choose a date within the next two weeks, so you have enough time to prepare without losing your motivation.
T – TELL family, friends, and co-workers that you plan to quit
Let your friends and family in on your plan to quit smoking ,and tell them you need their support and encouragement to stop. This creates accountability and support.
A – ANTICIPATE and plan for the challenges you'll face while quitting
Most people who begin smoking again do so within the first three months. You can help yourself make it through by preparing ahead for common challenges, such as withdrawals and cravings.
R – REMOVE ALL tobacco products from your home, car, and work (optional: REPLACE with CBD cigarettes)
Throw away any and all of your tobacco products. Wash your clothes and freshen up anything that smells like tobacco smoke. It's also a good idea to vacuum and wash the inside of your car.
T – TALK to your doctor about quitting
Your doctor can prescribe medication to help with withdrawal symptoms. If you can't see a doctor, you can get many products over the counter at your local pharmacy, including nicotine patches, lozenges, and gum.
Success Stories
Many have shared their own success when using Redwood Reserves CBD cigarettes to help with cigarette cravings and cues:
"Love love love these. They taste amazing and satisfy the inner cigarette smoker in me without the feeling of death cigarettes bring. These put me in a great mood and I can have one anytime anywhere." – Amanda, Massachusetts
"I'm obsessed. as soon as i have a chance to buy a carton, I'm gonna! these are great for fulfilling the urge to smoke (especially right now when things are really stressful) and encourage me to get out for a walk & get some air. I'm so glad that i found Redwood Reserves!" – Jasmine, OK
"Very satisfied with these. They have helped me cut back my cigarette habit after only a few days of use. I will continue to explore and purchase Redwood Reserves products." – Patrick, Kentucky
"I was looking for a CBD product to help me quit smoking cigarettes and this product really helped. No funny taste or large seeds packed in like the other products on the market. I really enjoy this occasional smoke and even turned a friend onto it as well." – Adrian, Las Vegas
Conclusion
Past research has shown that CBD products may help users quit smoking by neutralizing smoking cues, reducing nicotine cravings, and helping to combat the most prevalent symptoms of addiction.
Hemp products such as CBD cigarettes can be especially affective as a tobacco substitute when combined with other healthy lifestyle choices like good sleep and exercise, and with a solid plan to quit smoking, like the one outlined by the acronym S.T.A.R.T
And user feedback suggests that CBD cigarettes can be a safe, effective, and enjoyable tobacco substitute, helping users succeed in their fight to quit smoking once and for all.
How about you? Have you used CBD Cigarettes to help you quit smoking? Did they help? We'd love to know! Chime in and share your experience in the comments below!
The statements made regarding these products have not been evaluated by the Food and Drug Administration. The efficacy of these products has not been confirmed by FDA-approved research. These products are not intended to diagnose, treat, cure or prevent any disease. All information presented here is not meant as a substitute for or alternative to information from healthcare practitioners. Please consult your healthcare professional about potential interactions or other possible complications before using any product. The Federal Food, Drug, and Cosmetic Act requires this notice.
References:
Reference 1: https://onlinelibrary.wiley.com/doi/full/10.1111/add.14243
Reference 2: https://www.ncbi.nlm.nih.gov/pubmed/23685330?dopt=Abstract
Reference 3: https://www.ncbi.nlm.nih.gov/pmc/articles/PMC6098033/
Reference 4: https://www.ncbi.nlm.nih.gov/pubmed/20695034
Reference 5: https://www.ncbi.nlm.nih.gov/pubmed/1969666
Reference 6: https://www.ncbi.nlm.nih.gov/pubmed/23298518
Reference 7: https://www.ncbi.nlm.nih.gov/pubmed/29632236
Reference 8: https://www.ncbi.nlm.nih.gov/pubmed/19710631